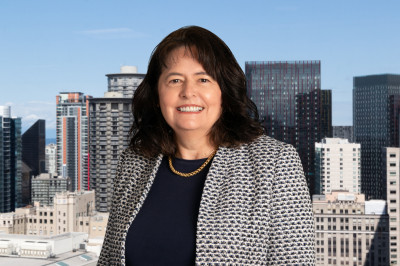 Areas of Focus
---
Accounting Malpractice,
Appellate Practice,
Automobile Liability,
Bad Faith Coverage,
Employment Law,
Fire and Property Damage,
Legal Malpractice,
Premises Liability,
Real Estate Malpractice.
Overview
---
Donna is an accomplished litigation attorney with extensive insurance defense experience. Martindale-Hubbell Law Directory has conferred a "BV" rating on her. She has defended over 20 jury trials in Washington in cases involving premises liability, automobile liability, and municipal liability. She has defended numerous arbitrations on similar issues. She has frequently served as an arbitrator in the King County Mandatory Arbitration program. Donna is a volunteer at the Open Door Legal Services which provides pro bono legal services.
Experience
---
Donna's experience includes these notable cases:
Certain Underwriter of Lloyds of London v. Pettit, Defense of boat owner in marina fire, in admiralty. Plaintiff's case was dismissed on motion defense motion after the plaintiff rested. Plaintiff alleged that a marina fire started on Mr. Pettit's boat, and that Mr. Pettit was negligent in the maintenance of his boat and that the boat was unseaworthy. The court found that plaintiff failed to meet their burden of proof on all issues.
McEwen v. Lumbermen's of Washington Inc. – Ms. Young successfully overturned summary judgment in favor of the plaintiff on the issue of proximate cause of the plaintiff's injuries. The appellate court accepted Ms. Young's argument that lay and expert testimony on causation of the injuries prevented the trial court from ruling as a matter of law that the injuries were the result of the defendant's negligence.
Garabedian v. Youngren – Ms. Young successfully defended summary judgment dismissal of the plaintiff's complaint on appeal. The issue involved the liability of abutting property owner for injuries due to a sidewalk defect. The appellate court accepted. Ms. Young's argument that her client did not create the defect in the sidewalk, did not have notice of the defect that injured the plaintiff, and that "appurtenances" to stairways in the construction permit did not include an adjacent sidewalk so as to impose on the abutting property owner a duty to maintain the sidewalk.
Bodin v. Stanwood – Ms. Young obtained a defense verdict after a four week long trial arising from claims by downstream homeowners whose homes were flooded and damaged after the Stillaguamish River flooded the City of Stanwood 's sewer lagoon and surrounding area. The verdict was upheld despite appeals to the Washington Supreme Court
Education
---
Loyola University, J.D. 1983
Hardwick College, BA cum laude 1977
Admissions
---
Washington State Bar
U.S District Court, Eastern District of Washington
U.S District Court, Western District of Washington
U.S. Court of Appeals, Ninth Circuit
Affiliations
---
Washington State Bar Association
Washington Defense Trial Lawyers Association
King County Bar Association